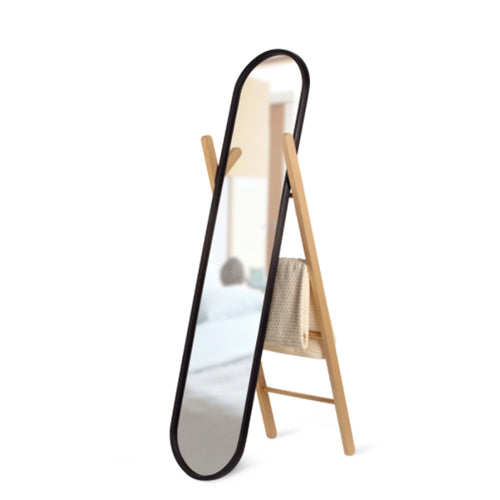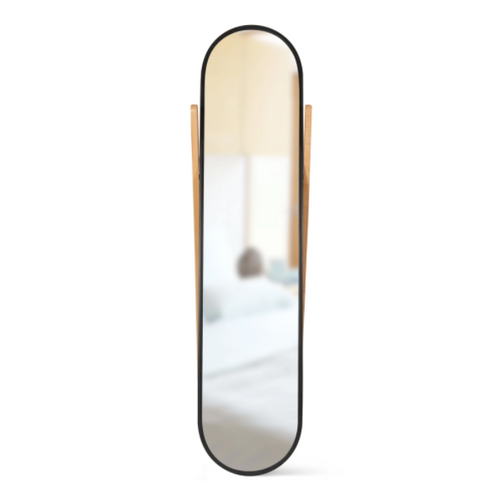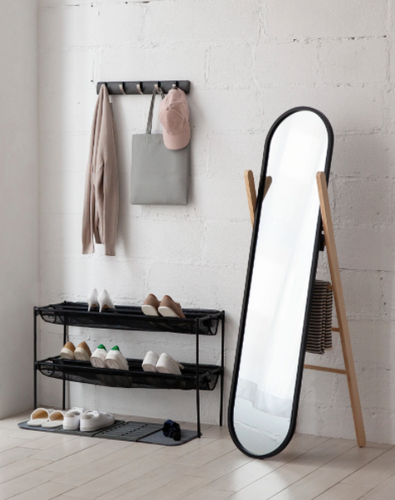 Umbra
Hub Floor Mirror Black/Natural
$226.00
Manufacturer: Umbra Shift

Designer: Umbra Shift

Dimensions: 16¾ x 61¾ inches

Material: Mirror, Solid Wood

Why is it Special?
The Hub Floor Mirror is a floor length vanity mirror that doubles as a storage rack to hold clothing, linens, and a variety of accessories. Made of a solid rubberwood easel-backed ladder in a natural finish with a black rubber rimmed mirror, Hub is functional for a variety of spaces, thanks to its compact size and thoughtful design. Measures 16¾ x 61¾ inches (42.5 x 157 cm).
Multifunctional Storage Ladder & Mirror:

 

Umbra Hub Floor Mirror is creatively designed to function as a standing floor mirror and an organizational ladder that you can hang clothes and other belongings on
Comes With Four-Rung Ladder For Storage:

 

This standing floor mirror provides easy-to-store solutions for clothing, towels and accessories. Items can neatly and efficiently be placed while using limited floor space
Rubbered Rim And Solid Wood Ladder:

 

Hub's black rubber rim adds a beautiful modern look, while also ensuring no damage to the floor
Sturdy And Great For Small Spaces:

 

This moveable mirror is crafted with strong rubberwood to hold heavier items while remaining durable