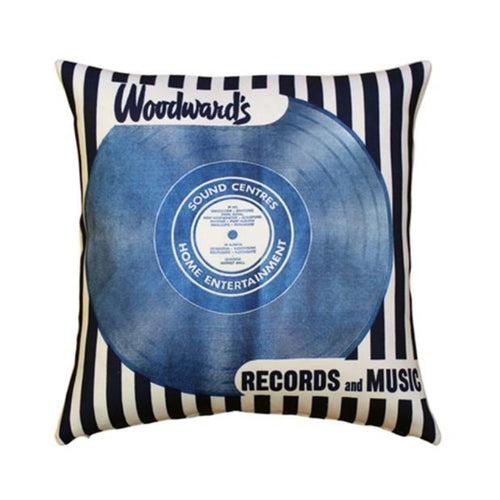 MOV
MOV Woodwards Throw Pillow
$86.00
Country of Origin: Canada
Manufacturer: Museum of Vancouver
Materials: 100% polyester indoor/outdoor fabric, with polyfill insert.
Dimensions: 20" x 20"
Why is it Special?
The Woodward's Records and Music Throw pillow features the design that covered the paper shopping bag used by Woodward's Department Stores as early as 1950. The shopping bag was made to accommodate a full size vinyl LP, and it became a common sight under the arms of Woodward's customers.
In 1892, Charles Woodward established the first Woodward store at the corner of Main and Georgia Streets in Vancouver. On September 12, 1902 Woodward Department Stores Ltd. was incorporated and a new 6 storey building was built on the corner of Hastings and Abbott Streets, a location that at the time was considered the heart of Vancouver's retail shopping district. Woodward's was a central feature of the retail scene in south western British Columbia and Alberta for much of the twentieth century. Woodward's closed in 1993 after 100 years of being a treasured part of Vancouver history.
From the Museum of Vancouver's Retail Collection and proceeds from the sale go to support the museum.  Hand wash cold, hang to dry.