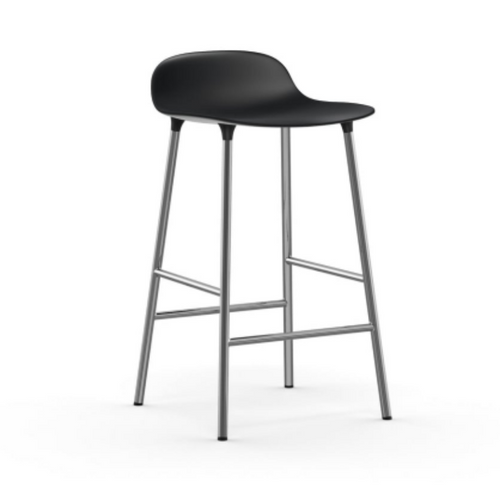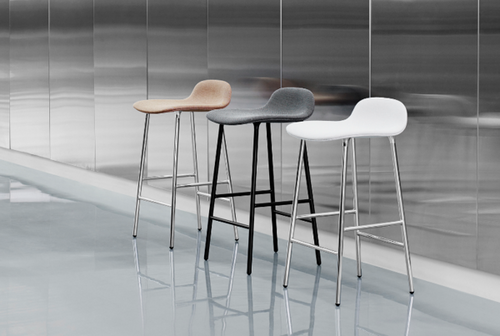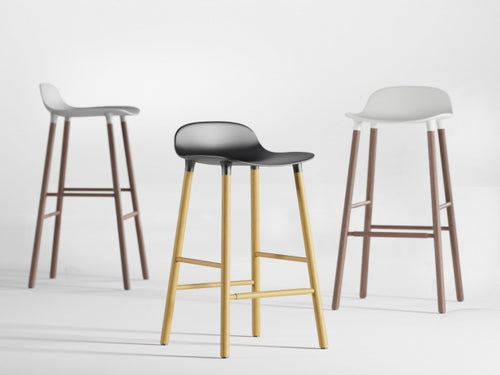 Manufacturer: Normann Copenhagen
Designer: Simon Legald
Country of Origin: Denmark
Dimensions: Back height: 77 cm, Seat height: 65 cm, L: 43 cm, D: 42.5 cm
Materials: Shell: Plastic, Legs: Steel
Why is it Special?
With cohesive family traits, the Form chairs, stools, and tables are versatile and timeless dining room furniture with a contemporary and clean design.
Combining function, aesthetic, and a simple design, Simon Legald has designed Form to be suitable for every environment. The collection is characterized by high durability and an exclusive character. With a range of molded shell chairs, armchairs, barstools and dining tables Simon Legald merges a strong historical design idiom with an innovative industrial design production.
About the design Simon Legald explains: "I've developed a technique that allows the connections between the frame and seat to be a naturally integrated part of the design. The frame is secured by a single plastic mould, which makes it appear almost as if the frame is growing out of the shell. This gives the design flexibility and makes it possible to vary the frame in a great number of ways. Form Chair is a combination of traditional craftsmanship and design history. At the same time, it is entirely unique".
The Form Stools are crafted combining a wood or steel frame with a molded plastic seat, while the table has oak legs and a linoleum covered table top. The different materials meet in an elegant way and help to accentuate the high quality craftsmanship, leaving the furniture with a clean and simple expression.
The Form concept was Simon Legald's graduation project at the Royal Danish Academy of Fine Arts in the summer of 2012, a project for which he earned top marks. Since the initial idea, it has taken 3 years to develop the Form series. It has become one of Normann Copenhagen's most popular product designs in record time.
Winner of German Design Award "Special Mention" 2016, Winner of IF Design Award 2016
Seats are available in black, white, grey, blue, red, or green. Legs are available in oak or walnut, or in powder-coated steel to match the color to the seat! So many possibilities!
See the whole range on the Normann Copenhagen website and contact us to order.
* Because of the size and weight of this item, free shipping does not apply. Please provide your shipping address and we will get back to you with a quote as quickly as possible.